Sadhana of Mahamudra
On or near the new moon each month.
For dates and times, see below.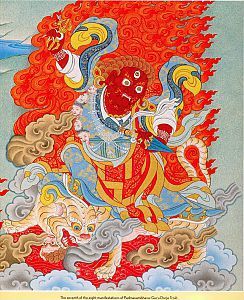 'Sadhana' is a chanted group practice which comes from the Tibetan monastic tradition. The Sadhana of Mahamudra was introduced to the Shambhala community in the early 1970's by its author and the founder of Shambhala: Chogyam Trungpa Rinpoche. We chant the Sadhana together with visualization and mantra invoking the presence of the sacred lineage of awakened masters of the past and present, our teachers. Through this sadhana we especially connect with the Kagyu and Nyingma traditions of Tibet, which are foundation lineages of Shambhala.
All are welcome.
The Sadhana of Mahamudra is practiced every new moon by a number of centers of the global Shambhala mandala. We are offering a few options to join others in this practice.
First is from 12 till 1PM on new moon Sundays immediately following the Boston Center's morning Nyinthun. For local Sadhana dates, please see the schedule below.
The second is Karmê Chöling. They practice the sadhana at 5:30 ET. Click here for the link to their meditation zoom room where you can register for it.
The third option is Ocean. They offer practice sessions on both the full and the new moon. They provide details closer to the date of the event. Click here for a link to their site for more information.
Wed Jan 13, 5:30 PM (Karmê Chöling)
Shamb Day Feb 12 (Shambhala Online).
*Sunday March 14, 12:00 noon (after Boston nyinthun)
*Sunday April 11, 12:00 noon  (after Boston nyinthun)
Tues. May 11, 5:30 PM (Karmê Chöling)
Tues. May 11 (time TBD) (Ocean on line)
Thurs June 10, 5:30PM (Karmê Chöling)
Thurs June 10 (time TBD) (Ocean Online)
Friday July 9, 5:30PM (Karmê Chöling)
Friday July 9 (time TBD) ( Ocean Online)
*Sunday Aug 8, 12:00 noon (after Boston nyinthun)
*Sunday Sept 5, 12:00 noon (after Boston nyinthun)
Links for practice sessions:
Boston Zoom practice: https://zoom.us/j/586788974
Karmê Chöling sessions: https://docs.google.com/forms/d/e/1FAIpQLSe8osYx8Oz-3U53L0C2EMMIjywqmk1ttiUkq4WAEeDmj02GXg/viewform
Ocean Online sessions: https://ocean.chronicleproject.com/the-sadhana-of-mahamudra/