Sadhana of Mahamudra
Practiced as part of Nyinthun, from 11am-12pm, when when the Sunday falls within a day of the new or full moon.
Dates include:
7/2/2023
7/16/2023
10/15/2023
10/29/2023
11/12/2023
11/26/2023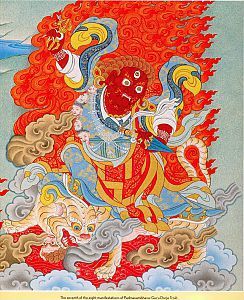 Sadhana' is a chanted group practice which comes from the Tibetan monastic tradition. The Sadhana of Mahamudra was introduced to the Shambhala community in the early 1970's by its author and the founder of Shambhala, Chogyam Trungpa Rinpoche. Chanting the Sadhana together with visualization and mantra, we invoke the blessings of our sacred lineages of the past and present. Through this sadhana we especially connect with the Kagyu and Nyingma traditions of Tibet, which are foundation lineages of Shambhala.
The sadhana contains a vivid description of the obstacles presented by physical, psychological, and spiritual materialism in the modern age and prescribes unwavering devotion to wakefulness as the antidote to the materialistic outlook. You can read more about the Sahdana of Mahamudra here.
All are welcome.