Nyinthün: Sunday Morning Meditation
Nyinthün is a hybrid program – with both in-person and remote participation via Zoom. In person participants must follow the current pandemic safety measures.
Online and in-person – Sundays from 9 AM till 12 PM.
See the schedule here
See the 2022 schedule here
For online practice. Please join online practice through Zoom URL:
https://zoom.us/j/586788974
For in-person attendance we will start together at 8:45AM at the Shambhala Center.
Nyinthün is open to all and there is no need to register. Participants can arrive (masked) and leave as they wish, but please do so during walking meditation as much as possible. The Gatekeeper will guide you about entering the meditation hall.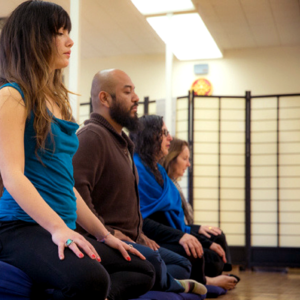 ---
Nyinthün is a weekly group practice of sitting and walking meditation held every Sunday morning. The practice begins and ends with a short set of traditional group chants and includes a dharma reading and a practice of compassion for those who have instruction in Tonglen.
People of all levels of practice experience are always welcome.
Meditation Instruction is available upon request, usually during walking mediations. These are short personal meetings to address questions for both new and experienced meditators.
The power of group meditation
The group practice of Nyinthün is a special opportunity to extend and deepen and one's meditation. Being supported and carried by the energy of group practice helps us to stay with the practice in a uplifted and supportive environment. This energy inspires our own practice further than short daily sessions alone can do. The deepening of our personal practice afforded by Nyinthun in turn gives momentum to our regular daily practice.
Nyinthün is best experienced in its entirety, but people are free to join and leave the virtual practice at any time. In-person participants are requested to arrive by 9:45 AM until further notice, but may leave at any time.
---
If you're coming for the first time, we welcome you as our guest. After that please consider making a donation. Please practice generosity at the level that feels most appropriate. Your donations support programs such as this and promote a bright, caring, and brave environment of dharma practice.
Donate via:
Donation Page
-or-
paypal.me/shambhalaboston
-or-
venmo: @ShambhalaBoston0015 (use 0015 if it asks you to confirm a phone number) and mention "Nyinthun" or "Sunday Sitting" in the memo.