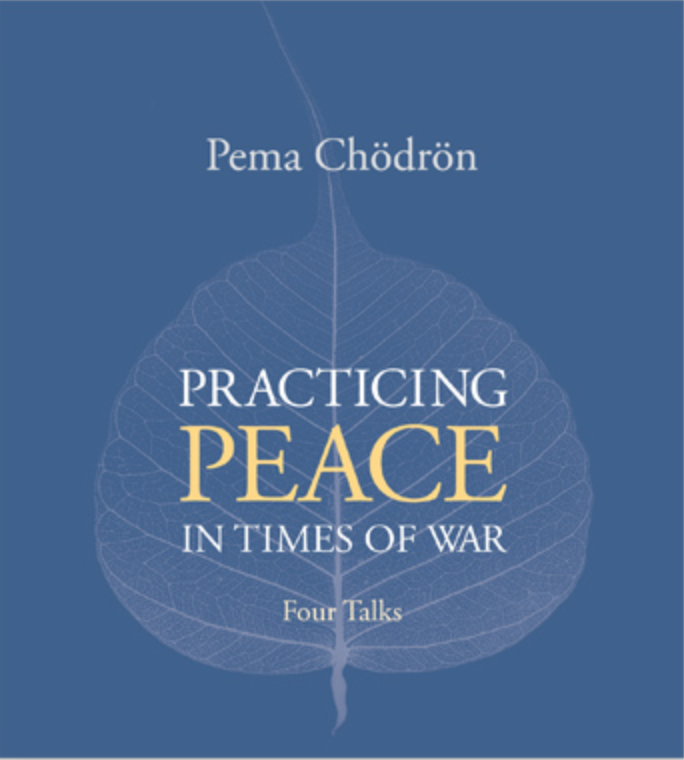 Practicing Peace in Times of War [In Person]
with Judy Vreeland
12:30-3:30pm
Saturday, December 9
Is peace a state of fortunate circumstances, or a way of engaging with the circumstances of the world?
Attachment to sense of solid self leads to comparison to, and judgement of, 'other'. War, whether between individuals, groups or nations, arises from this distorted view. These conflicts then further bring out the divisions within groups.
Yet some people seem able to hold the pain of life's greatest challenges, including the many horrific things happening around the globe, and continue to work for peace.
Pema Chödrön - author and spiritual teacher in the Shambhala tradition - has shared real and practical wisdom for cultivating these qualities in her book Practicing Peace in Times of War.*
In this program we will use her book, along with insights from other teachers such as Chögyam Trungpa, Thich Nhat Hanh, Joseph Goldstein, and Ayo Yetunde.
Through meditation practice, teachings and facilitated discussion, this retreat will explore how their words can be of benefit as we seek to navigate the troubled waters of this age.
We will also use the traditional Buddhist practice of Loving-kindness as a powerful tool to get in touch with the feelings and the uncertainty that we usually resist.

Participants will take away perspective from Pema in day-to-day life, support for managing pain and anxiety, and ways to use practice that are not avoiding or bypassing.
"What I'm advocating here is something that requires courage — the courage to have a change of heart. The reason this requires courage is because when we don't do the habitual thing, hardening our heart and holding tightly to certain views, then we're left with the underlying uneasiness that we were trying to get away from. Whenever there's a sense of threat, we harden. And so if we don't harden, what happens? We're left with that uneasiness, that feeling of threat. That's when the real journey of courage begins. This is the real work of the peacemaker, to find the soft spot and the tenderness in that very uneasy place and stay with it. If we can stay with the soft spot and stay with the tender heart, then we are cultivating the seeds of peace"

―
In looking more deeply into conflict - both inner and outer - we recognize that this can trigger inner conflict and intense feelings. Participants are encouraged to take care of themselves and engage at whatever level is workable in the moment.
*Note that the book
Practicing Peace in Times of War
is out of print.

The book is not required for the program

but it is available as an ebook, or used from multiple online vendors if you would like a copy.
---
Registration Please register with an email you check regularly. We will send important information about the program to you via email and don't want you to miss it.
You will not receive an email right away. Participants will receive a confirmation email within 24 hours of registration, and a confirmation email with program details approximately 1 week before the program begins. Sometimes emails may end up in your promotions, spam or junk folder. It's also possible that you've unsubscribed from emails from Shambhala, which prevents you from receiving the necessary emails. If you don't receive the confirmation email, please contact [email protected].
Price - We calculate the price in order to cover the various costs associated with the program. However we are committed to offering these important teachings accessible to everyone who will significantly benefit from them. We ask everyone to contribute something, but invite you to consider your own financial situation, the value of the program, comparable cost for other programs, and your intention in participating - and choose an amount that is fair for you. Please see our pricing policy page for information about tiered pricing, MyPrice, cancellations and more.
In-person participation Masking is now optional for in-person programs. Additionally, we ask you to limit the use of scented products, as many people have chemical sensitivities. Note that our building is not wheelchair accessible.
FAQ Common questions might be answered on our FAQ page.