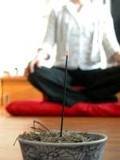 Learn to Meditate in Challenging Times
with Jim Katz, Ruth Blackburn, Joe Snowdon
In this time in history we are faced with tremendous turmoil and concerns about ourselves, our relationships, and communities. Meditation offers us the opportunity to stabilize our minds, so we can be more caring and use our innate strength and wisdom as we navigate our daily life. We learn how to go beyond feeling better only for ourselves: we cultivate peace of mind to bring a sense of rest and purpose into our world.
This is Meditation for Challenging Times
We learn to meditate with confidence that:
Feeling "centered" is only the beginning

A "quick fix" can be our avoidance of discomfort

We find a ground from which we uncover our strength, stability, and compassion.
We already know that in order to help with even the smallest challenges in our lives, we need to calm our own reactions first. Meditation helps us settle into our own spot, and then decide what comes next.
Thursdays, January 13 - February 3, 2022