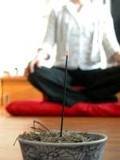 Learn to Meditate Workshop, in person
with Jim Katz & Ruth Blackburn
Have you wanted to learn to meditate - to work with your mind, to be kinder to yourself and others?
As part of our Welcome Back Open House, we're offering a special in-person, 2-hour 'Learn to Mediate' workshop.
The first half will include initial meditation instruction as well as a discussion about why we sit, how to be kind to yourself, and practicing without a 'project'. The second half of the workshop will focus on stabilization: how to handle your rowdy mind, why meditation is uncomfortable and how to work with this discomfort.
By the end you'll have a great foundation to begin practicing on your own at home or in groups (such as the Sunday morning Nyinthun).