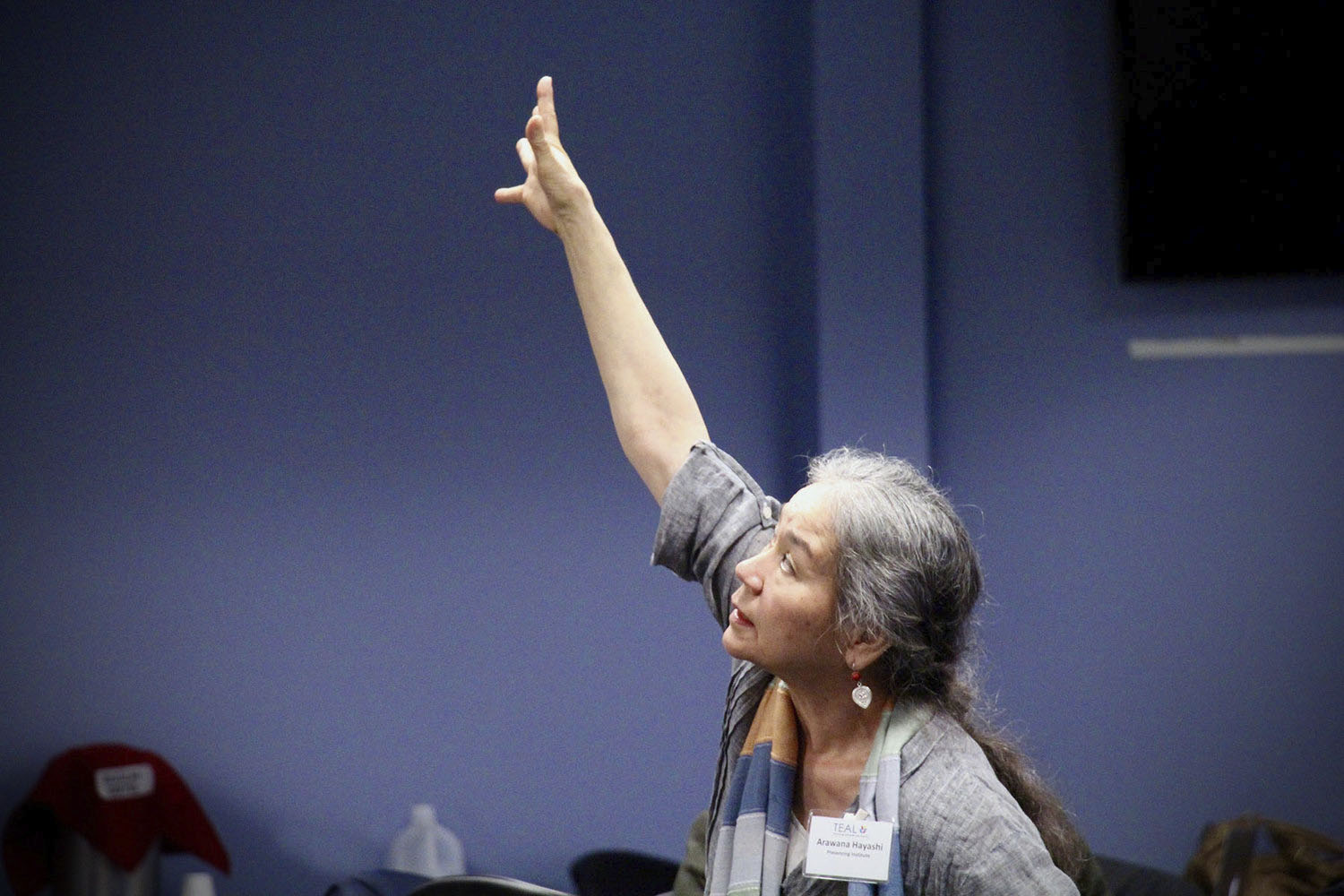 Welcoming Stuck Places
with Acharya Arawana Hayashi
Every individual, every social situation, every creative process has obstacles, challenges, questions—stuck places. Embedded in "stuck" are insight, clarity, and wisdom. We turn toward the "stuck" to listen and to feel. It may seem counter-intuitive, but without talking about our situation, we can move into a body shape that engages, clarifies, and enhances the feeling of "a place where I feel stuck." That feeling could be called uncertainty, irritation, boredom, confusion—it makes no difference what it is because the method is always the same. What is important is developing the capacity to feel whatever we feel, without labeling it good or bad, without immediately categorizing it in terms of past experience, be it psychological or historical, and without immediately trying to get rid of the experience.
Arawana Hayashi's teaching uses meditation, creative process, body-based learning and the insights of Theory U and Social Presencing Theater (SPT) to help participants understand and actually see patterns and relationships that are "stuck" in a system, offering new methods for creating open, sane systems. SPT is not "theater" in the conventional sense, but uses simple body postures and movements to dissolve limiting concepts, to communicate directly, to access intuition, and to make visible both where we are now and where we want to go.
Arawana's gentle, insightful guidance and the richness of the discussions explore and strengthen the creative potential of individuals and groups. At the core of these teachings is the hypothesis that the quality of our actions is a function of the quality of the awareness we bring to those actions. Social Presencing Theater gives practitioners an embodied experience of the change process. Sunday's workshop will include working with the "case clinic" modality. Case Clinics allow a team of peers to generate new ways to look at a challenge or question, providing an opportunity to access the wisdom and experience of peers, to respond to an important and immediate leadership challenge in a better and more innovative way. The program is appropriate for everyone. No theater, dance, movement experience required. In the past 10 months Arawana has successfully adapted her teaching and exercises to the constraints (and benefits) of meeting over zoom.

The weekend program will include a framing of the method and some practice. Please bring your stuck situation with you—some place where what you are trying to create or accomplish is not moving forward. You will not be asked to share this with anyone; only attend to it in a practice. The weekend will also include sitting meditation, individual movement practice for synchronizing body and mind and cultivating an embodied presence, journaling, and social body and awareness practice. On Saturday, we will engage in small group practice highlighting the practices of "Stuck", and Sunday will include the Case Clinic, the peer coaching method of working from Theory U.
---
Arawana Hayashi is an acharya (senior teacher) in Shambhala. She teaches both meditation and art-based practices for bringing out the basic goodness of individuals, of relationships and of society. Arawana's pioneering work as a choreographer, performer and educator is deeply sourced in collaborative improvisation. She currently heads the creation of Social Presencing Theater (SPT) for the Presencing Institute.