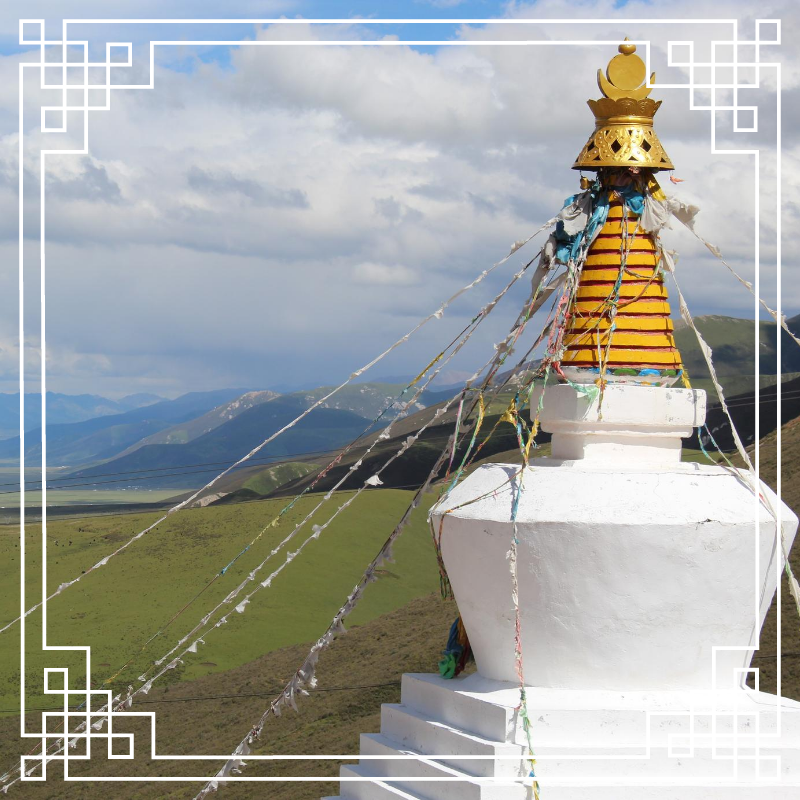 Practicing in Nature with Himalayan Yogis [ONLINE]
with Dylan Bianchi & James Wilton
"Looking up in the center of the blue sky,
I suddenly remember dharmata-emptiness.
I have no fear of existent phenomena.
When I look out at the sun and moon,
I suddenly remember the luminosity of mind itself.
I have no fear of agitation and dullness.
When I look out at the mountain's peak,
I suddenly remember unmoving samadhi.
I have no fear of thoughts that move and change.

When I look down to the center of the river,
I suddenly remember unbroken flow.
I have no fear of fleeting conditions.
When I see a rainbow drawn in the sky,
I suddenly remember the union of appearance and emptiness.
I have no fear of eternalism and nihilism."
--From The Rakshasa Demoness of Lingpa Rock,
in The Hundred Thousand Songs of Milarepa
This five-week class will engage with the spiritual biographies and songs of wandering Buddhist ascetics from the Himalayan region, practitioners whose realization arose from long periods of solitary retreat in natural settings. Most well-known is the Kagyu yogi Milarepa, whose retreats and devotional songs have inspired practitioners for centuries. We will learn about the life of the Dzogchen master Longchenpa, perhaps the most famous of the realized scholars in the Nyingma school of Tibetan Buddhism, who was abbot of Samye, the first Buddhist monastery established in the Himalaya, but spent most of his life travelling or in retreat. The life of Chöd lineage founder Machig Labdrön, an 11th century Tibetan yogini whose teachings and practices have profoundly influenced all schools of Tibetan Buddhism, is an inspiring story of a committed practitioner, at-times beggar woman, brilliant teacher, mother and lineage founder.
Reading these devotional songs and learning of these yogis' lives and struggles can inspire our own paths. We will explore together how we might invoke the natural world as a support for meditation, while also deepening our connection to Earth and the elements through practice. Participants will be invited to practice in outdoor settings between class sessions and to reflect on and share their experiences.
"When, on your afternoon walk in the meadow,
You yearn for a companion to walk beside you,
Let that forlornness be your companion.
And merely accommodate the impulse
To cover it over with the voice of thought."*
*excerpt from Words of Advice to Myself on Retreat, devotional song by Dylan Bianchi
Mondays: 9/14-10/12, 7-8:30pm
---
Dylan Bianchi has been a student of the Shambhala and Buddhist teachings for 15 years. He has completed several solitary retreats in natural settings and has undertaken contemplative journeys in several remote areas including the Sierra Nevada Mountains, the Canadian Yukon, Eastern Tibet, and the Himalayas of India and Nepal.
Jim Wilton is an urban yogi, a lawyer, and long time practitioner in the Kagyu / Nyingma and Shambhala lineages. He is inspired by the example of the great wandering yogis of Tibet, including his teacher, Chögyam Trungpa, who wandered across the Himalayas, to England, and to the mountains of Vermont and Colorado, and to the shores of Nova Scotia.
---
You should receive a confirmation email from our database within 24 hours of registration. You should also receive an email by noon the day before the event which includes the link to join the call. If you do not receive these emails, please check your spam or promotions folders, then contact [email protected] It is possible that you have opted out of emails from the Shambhala Database.