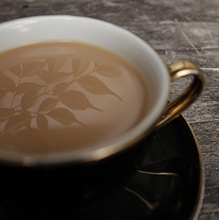 Tea with the Director - Feedback as fuel for the path [ONLINE]
with Max Roberts-Zirker
This program will now be entirely online. Max will host a video conference via Zoom link: https://zoom.us/j/477598347

Join Center Director Max Roberts-Zirker Thursday evening for tea and conversation from 6:30-8:30pm. This is an informal gathering and you are welcome to come for all or part.
This is an opportunity to ask questions, share stories, propose ideas, or just say hi. Tea and light refreshments will be provided. Registration is helpful but not required.
Each month, I'll have a general theme for discussion. It's not a talk or presentation, just a starting point for our conversation. The theme this month is "Feedback" - What is it? How do we work with it? Do we have too much or too little? How can we give and receive it skillfully?
"As long as we have a sense of practice, some realization that we are treading on the path, every one of those little details, which are seemingly obstacles to us, becomes an essential part of the path. Without them, we cannot attain anything at all—we have no feedback, we have nothing to work with, absolutely nothing to work with. So in a sense all the things taking place around our world, all the irritations and all the problems, are crucial."
~from Taming The Mind by Chogyam Trungpa