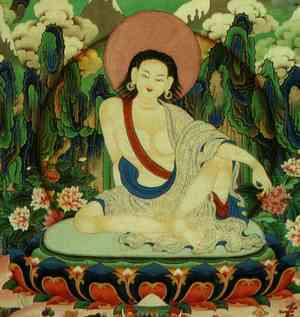 Full day Nyinthun: Meditation with Readings from the Rain of Wisdom: the Vajra Songs of the Kagyu Gurus
with William Wooding & Janet Romaine
All are welcome to participate in all or any part of the day.
Reminder: This is "Spring Forward" Daylight Savings day
On this annual day of remembrance we celebrate the Kagyu Lineage of Tibetan Buddhism, one of the three great lineages of Shambhala. We will mix the nyinthun practice of sitting and walking meditation with reading and chanting The Rain of Wisdom: The Vajra Songs of the Kagyu Gurus, a text translated under the guidance of Chögyam Trungpa Rinpoche. The Rain of Wisdom consists of stories, poetry and dohas (songs) of the accomplished masters of the Kagyu lineage composed by Milarepa, Marpa, Gampopa, the Karmapas, Jamgon Kongtrul the Great, and other renowned lineage holders.
.... these songs should be regarded as the best of the butter
which has been churned from the ocean of milk of the Buddha's
teachings. Reading these songs, or even glancing at a paragraph
of this literature always brings timely messages of how to conduct
oneself, how to discipline oneself, and how to reach accomplishment.
Furthermore, these songs are very pithy and direct. Their wisdom is
both old and new. It is old because it is a tradition of twenty-five hun-
dred years; it is new because it directs itself to one's very moment of
mind, at this very second.
- Chögyam Trungpa Rinpoche
All are welcome regardless of experience; please join us for all or part of the day. Individual mediation instruction will be offered on request during breaks and walking meditations.

Schedule:

9:00 Opening remarks, opening chants, sitting meditation.
9:45 - 12:00 Sitting, walking, Rain Of Wisdom readings.
12-1:30. lunch break
1:30 - 3:30 Rain of Wisdom readings, sitting and walking.
3:30- 3:50 Silent tea break
3:50 - 4:40 Rain of Wisdom readings, sitting and walking.
4:40 - 5:00 Closing chants
Anyone interested in staffing the program or reading, please contact: Bill Wooding at [email protected]


The $10 donation is suggested to help support the center and this program.
Registration is not required but greatly helps us plan.
UPCOMING All Day NYINTUNS:

April 5: Acharya Melissa Moore, Glimpses of Sunyata
May 3: Acharya Judith Zimmer-Brown, Prajna and Compassion