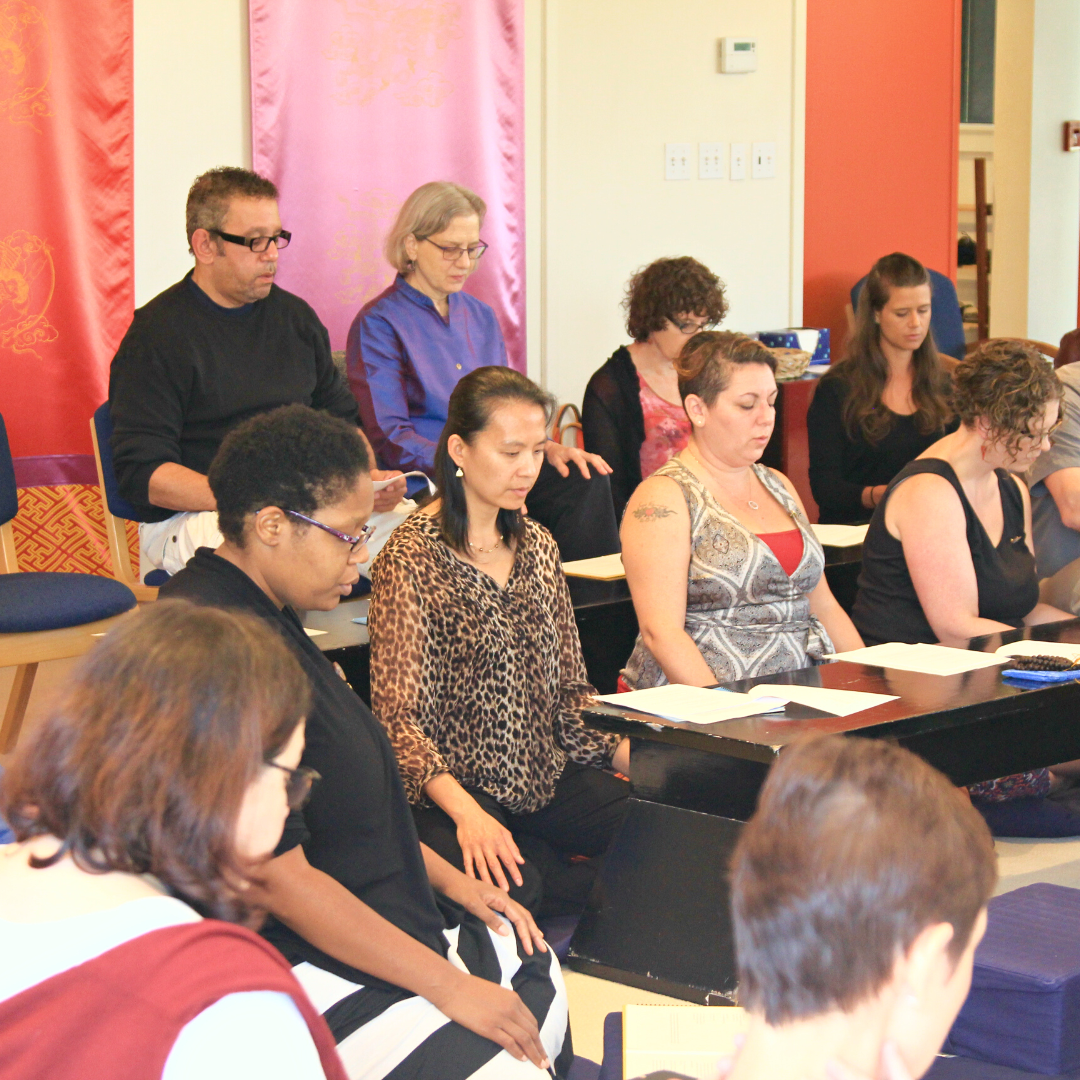 Creating a Trauma-Informed Practice Space: A Workshop for Volunteers [In Person]
with Andrea Darby, Janet Romaine, Joe Snowdon, Dylan Khanal
We often talk about the container for practice: the space in which people come to learn and practice dharma. This container is created by many people, mostly volunteers.
Everone who visits the Boston Shambhala Center deserves a safe and supportive environment, no matter which event or program they attend. How do we support people who have truamatic experiences?
This workshop is a key step for our community in learning to create an environment where everyone feels safe and supported on the path of dharma.
Workshop Objective: Our primary goal is to increase awareness among our volunteers about the profound impacts of trauma on those who visit our meditation center to learn, practice, and connect. It's essential to recognize that our actions, however well-intentioned, can inadvertently cause harm and trigger past emotional responses in others.
By becoming more trauma-informed, we can significantly enhance the progress of all individuals on their meditation path. This workshop underscores the critical role our instructional and practice environment plays in facilitating deeper growth and healing for everyone.
What You'll Learn:
Understanding Trauma: Gain insights into the various forms of trauma, both visible and hidden, that our visitors may carry with them.
Recognizing Triggers: Learn to identify potential triggers within our meditation context and discover ways to create a safer space.
Compassionate Communication: Develop skills to communicate empathetically and support individuals who may be dealing with trauma.
Self-Care: Explore strategies for self-care to prevent burnout and ensure you're equipped to provide the best support to our community.
Supportive Environments for Practice: Discover practical techniques and strategies for fostering an inclusive, compassionate, and trauma-informed meditation environment.
Why Attend: As a volunteer who interacts with the community, you are already an integral part of creating a supportive environment. By participating in this workshop, you'll help us make sure that our meditation center is a sanctuary of healing and growth. You'll learn how to navigate the challenges that trauma may present and create a more inclusive space where individuals from all walks of life can thrive on their spiritual journey.
All volunteers should try to attend this program. Every volunteer's participation will contribute significantly toward creating a more compassionate and trauma-informed meditation center. Together, we can ensure that our center remains a place where people feel supported in doing the hard work of transformating confusion into wisdom.
While attendance is not mandatory, we strongly encourage all volunteers who interact with the community - including teachers, greeters, meditation instructors, and program leaders - to participate in this transformative workshop.
Join us in this important endeavor to make our meditation center a truly welcoming and healing space for everyone.
Tentative Program Schedule:
9:00 AM - 12:00 PM: Understanding Trauma
During the morning session, we will delve into the current understanding of trauma. This foundational knowledge will help you recognize the subtle yet significant ways it can affect individuals in a meditation context. Gain insights into the science behind trauma and its psychological and physiological impacts.
12:00 PM - 1:00 PM: Lunch Break
1:00 PM - 2:00 PM: Guidelines and Resources
In the afternoon, we will introduce you to the new guidelines and resources that our Trauma Informed Team has developed. These practical tools are designed to help you create a safe, trauma-informed meditation space. Learn how to implement these guidelines effectively and access the resources to support your role within our community.
2:15 PM - 4:00 PM: Skill Building and Role-Playing
The final part of the workshop is dedicated to hands-on skill building and role-playing exercises. This interactive session will provide you with opportunities to practice what you've learned, engage in meaningful discussions, and gain confidence in applying trauma-informed principles to your role as a teacher, greeter, meditation instructor, or program leader.
Why Attend:
Comprehensive Learning: Our full-day workshop ensures you receive a comprehensive education on trauma, guidelines, and practical skills, empowering you to make a positive impact within our meditation community.

Interactive Experience: Engage in dynamic activities and discussions to deepen your understanding and build essential skills, making the learning process engaging and memorable.

Empowerment: By attending this workshop, you'll not only increase your personal awareness but also contribute to the collective growth and well-being of our meditation center. Your dedication to creating a safe and nurturing space is a vital part of our shared journey.
We understand that dedicating a full day to this workshop is a significant commitment. The knowledge and skills gained will be essential for fostering a stronger practice community for all of us. We look forward to sharing this transformative experience with you.