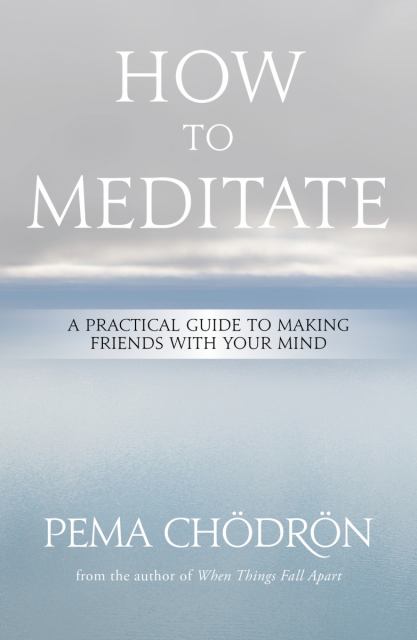 The Path of Meditation: Making Friends with Your Mind [Hybrid]
with Judy Vreeland & Petri Flint
More and more of us are beginning to recognize a deep inner longing for authenticity, connection, and aliveness. Meditation, Pema explains, gives us a golden key to address this yearning. Here, she shows us how to meet and relate with our minds, embrace the fullness of all experience, and live in a wholehearted way.
Beginning a sitting meditation practice can seem daunting.
This four week program offers instruction - or review - in the essential points, along with discussion to clarify any questions, support to begin sitting and extended practice to continue, ensuring that the teachings become an integral part of your life.
Over four online sessions, and one longer hybrid practice session, we will unpack the essentials of practice using Pema Chodron's text "How to Meditate: A Practical Guide to Making Friends with Your Mind."
The final session will be a hybrid morning retreat (offered both in person and online) with the opportunity for review and extended practice.
Tuesday online sessions, 7-8:30: January 16, 23, 30, February 6
Saturday hybrid session, TBD
Need some encouragement? Read Pema Chodron's article 5 Reasons to Meditate.


---
Registration Please register with an email you check regularly. We will send important information about the program to you via email and don't want you to miss it.
You will not receive an email right away. Participants will receive a confirmation email within 24 hours of registration, and a confirmation email with program details approximately 1 week before the program begins. Sometimes emails may end up in your promotions, spam or junk folder. It's also possible that you've unsubscribed from emails from Shambhala, which prevents you from receiving the necessary emails. If you don't receive the confirmation email, please contact [email protected].
Price - We calculate the price in order to cover the various costs associated with the program. However we are committed to offering these important teachings accessible to everyone who will significantly benefit from them. We ask everyone to contribute something, but invite you to consider your own financial situation, the value of the program, comparable cost for other programs, and your intention in participating - and choose an amount that is fair for you. Please see our pricing policy page for information about tiered pricing, MyPrice, cancellations and more.
In-person participation Maskig is now optional for in-person programs. Additionally, we ask you to limit the use of scented products, as many people have chemical sensitivities. Note that our building is not wheelchair accessible.
FAQ Common questions might be answered on our FAQ page.