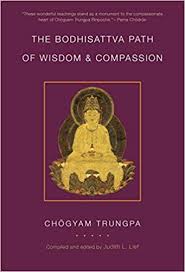 A World Beyond Ego: Mahayana Study of Shunyata, Emptiness and Compassion [ONLINE]
with Mary Lang & Jim Wilton
Thursdays, 7-9pm
October 19 – November 30 & a half-day retreat on Saturday December 2
Join us for a 7-week study of teachings from the Mahayana Profound Treasury volume, exploring the essence of the Mahayana Path - Emptiness and Compassion. The Profound Treasury texts present Chögyam Trungpa Rinpoche's teachings in a way that joins traditional Buddhist concepts with contemplative, experiential understanding, in vivid language which is as fresh today as when they were first taught.
Topics for this Mahayana session will include Two-fold Egolessness, Ultimate and Relative Bodhicitta, cultivating a Mahayana mentality, and an extensive exploration of Chӧgyam Trungpa's teachings on Emptiness. The class format will be facilitated discussion, closely tied to passages in the readings from the Profound Treasury texts. There will be approximately 10 pages of reading each week.
One does not need to have attended previous Profound Treasury study groups to join this class, but a solid meditation practice and an interest in studying the dharma is a recommended pre-requisite. The expectation is that students will actively engage in the topics and complete each reading assignment prior to the class discussion.
---
Registration Please register with an email you check regularly. We will send important information about the program to you via email and don't want you to miss it.
Registrants will receive a confirmation email within 24 hours of registration. A confirmation email with program details will be sent approximately 1 week before the program begins.
Sometimes emails may end up in your promotions, spam or junk folder. It's also possible that you've unsubscribed from emails from Shambhala, which prevents you from receiving the necessary emails. If you don't receive the confirmation email, please contact [email protected].
Price - We calculate the price in order to cover the various costs associated with the program. However we are committed to offering these important teachings accessible to everyone who will significantly benefit from them. We ask everyone to contribute something, but invite you to consider your own financial situation, the value of the program, comparable cost for other programs, and your intention in participating - and choose an amount that is fair for you. Please see our pricing policy page for information about tiered pricing, MyPrice, cancellations and more.
In-person participation Masking is now optional for in-person programs. Additionally, we ask you to limit the use of scented products, as many people have chemical sensitivities. Note that our building is not wheelchair accessible.
FAQ Common questions might be answered on our FAQ page.