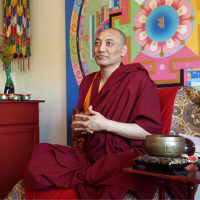 Exploring Foundational Buddhist Teachings [Shambhala Online]
Live sessions Saturdays, from 1:00pm – 3:00pm EST
2023: Oct. 14, Nov. 11 & Dec. 9
2024: Jan. 13, Feb. 10, Mar. 9, Apr. 13, May 11 & June 8
During this nine-month (one live session monthly) in-depth, hybrid course on foundational Buddhist teachings, Khenpo Gawang will guide participants through his book, Your Mind Is Your Teacher. This is strongly recommended for new students but will be offered in enough depth to be interesting and useful to those who have studied Buddhist teachings for many years.
This is an incredible opportunity for your community to hear teachings from a renowned Tibetan teacher over a period of nine months. If people in your community are longing to dive more deeply into foundational Buddhist teachings, this is an excellent opportunity to come together around this upcoming exciting course – with no financial outlay or risk to your Centre or Group!
This course is open to all and no prerequisites are required.
As a follow-up to this course, Khenpo Gawang will present Mahayana teachings on Shambhala Online in 2024.
Topics to be covered:
The Four Seals of the Dharma

Impermanence
Multiplicity
Suffering
Emptiness

The Eightfold Noble Path
The Five Skandhas
The Twelve Nidanas
Karma
Merit
Death and the Bardo
Absolute and Relative Reality
In addition to the teachings, for the periods between classes, the course will include optional contemplations, readings, and exercises to help deepen and strengthen these core understandings of Buddhism.

When you register, enter "Boston" when it asks "Which centre or group are you affiliated with?"


---
Revenue is shared between Shambhala Online and the Boston Shambhala Center when you use this link.
Shambhala Online is part of the international Shambhala network, but operates separately from the Boston Center. There are no local staff for this program. If you are interested in connecting with others in the Boston area who are taking this course, please email [email protected] with the program title in the subject line, and we will do our best to connect you.