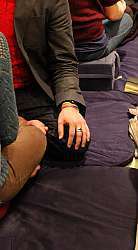 30's and Under [ONLINE]
30's and Under will be held online this week. Please join through Zoom URL: https://zoom.us/j/178320979
The 30s and Under night is a fantastic opportunity to connect with other young people in the Boston area who are interested in meditation. The evening begins with meditation practice with instruction provided for anyone coming for the first time or who would like a review. Sitting meditation is followed by Social Meditation, which is an embodied exploration of bringing meditative awareness into our interactions with others. The evening concludes with refreshments and time for socializing in a vibrant community atmosphere.
To support the practice environment after the program has begun, the room will be locked at 7:20pm. If you arrive after this we encourage you to join us again next week.

There is no registration. The suggested donation of $5-$10 supports programs such as this and promotes a sane, caring and brave environment.