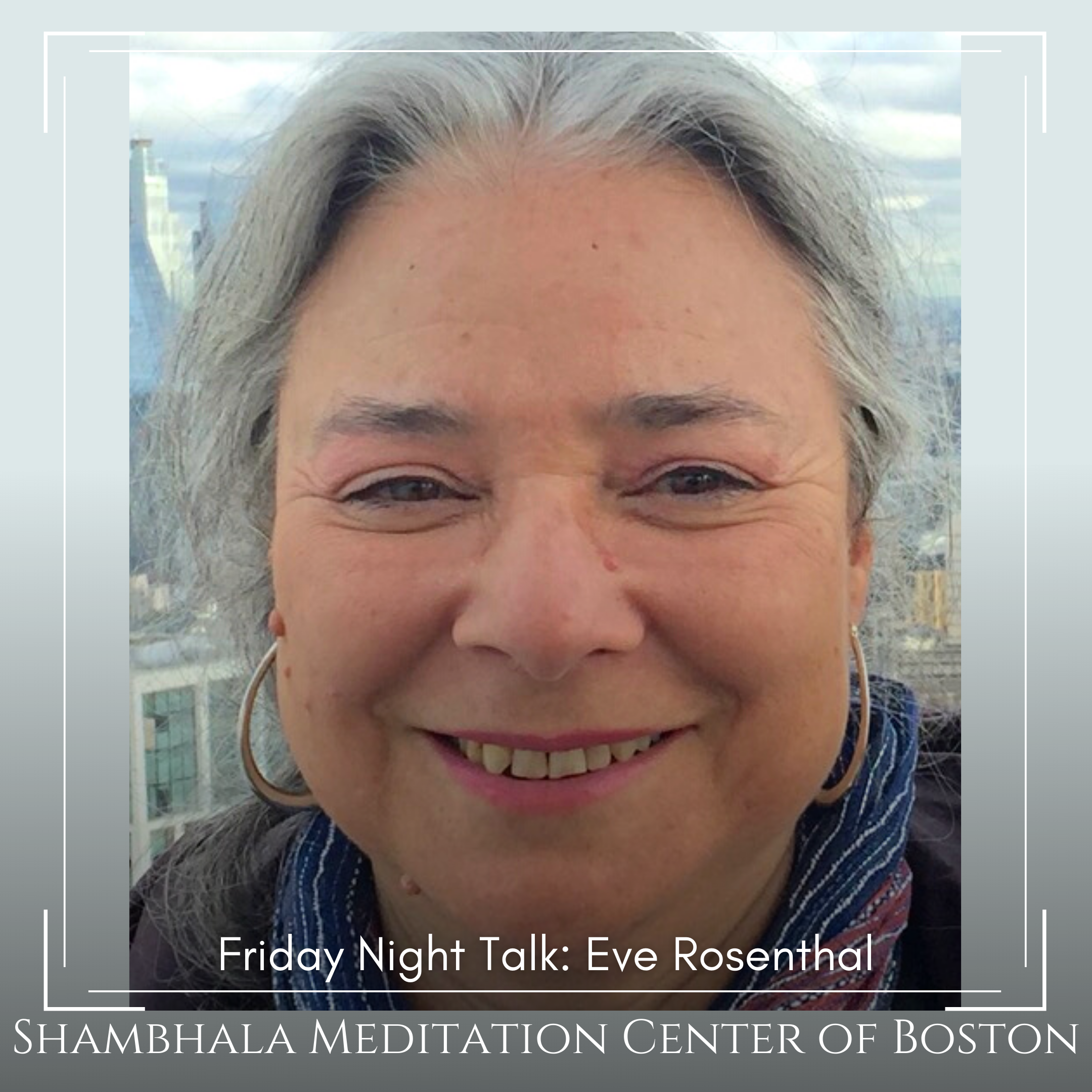 Friday Night Talk: Complete Openness – The Everyday Practice
with Eve Rosenthal
Friday Night Talks begin at 7 pm Eastern, 8 Atlantic, 5 Mountain, 4 Pacific time.
In the present day, plague, famine and war are not abstract future concepts. The pandemic, climate disasters, and conflict are issues impacting individuals, families, communities and society as a whole. Many of our familiar reference points have been stripped away, and we are all trying to cope. Many of us are in the question of how to maintain sanity, open-heartedness and cheerfulness in the face of these challenges.
Those of us so fortunate to have encountered the dharma have been given many methods to work with internal and external appearances, no matter what the circumstances, and to connect with wisdom and the magic of phenomena. Personally, I have found the instructions below to be a guiding light that has
resonated deeply in navigating this time.
"The everyday practice is simply to develop a complete acceptance and openness to all situations and emotions and to all people, experiencing everything totally without mental reservations and blockages, so that one never withdraws or centralizes onto oneself.
This produces a tremendous energy which is usually locked up in the process of mental evasion and generally running away from life experiences.
Clarity of awareness may in its initial stages be unpleasant or fear-inspiring; if so, then one should open oneself completely to the pain or the fear and welcome it. In this way the barriers created by one's own habitual emotional reactions and prejudices are broken down."
From "The Way of Maha Ati" by Chögyam Trungpa and Rigdzin Shikpo, from the Collected Works of
Chögyam Trungpa, Volume 1, pg. 461.
During the session, we will discuss the application of these instructions in everyday life.
---
Eve Rosenthal has been a senior teacher in Shambhala for many years, leading programs for the public as well as advanced practitioners. Founder of Shambhala Online, Eve has worked in the technology sector on Wall Street and as a university professor. She is a long time practitioner and instructor of Tai Chi Chuan and enjoys playing the piano. She will be joining us from her home in Halifax, Nova Scotia.
---
You should receive a confirmation email within 24 hours of registration. Sometimes registration emails end up in spam or junk folders. It's also possible you've unsubscribed from emails from Shambhala, which prevents you from receiving the necessary emails. If you don't receive the confirmation email, please contact [email protected].
All paid registrants receive a link to the zoom recording early the following week.
Please register by noon of the day of the event in order to receive the zoom link in a timely manner.