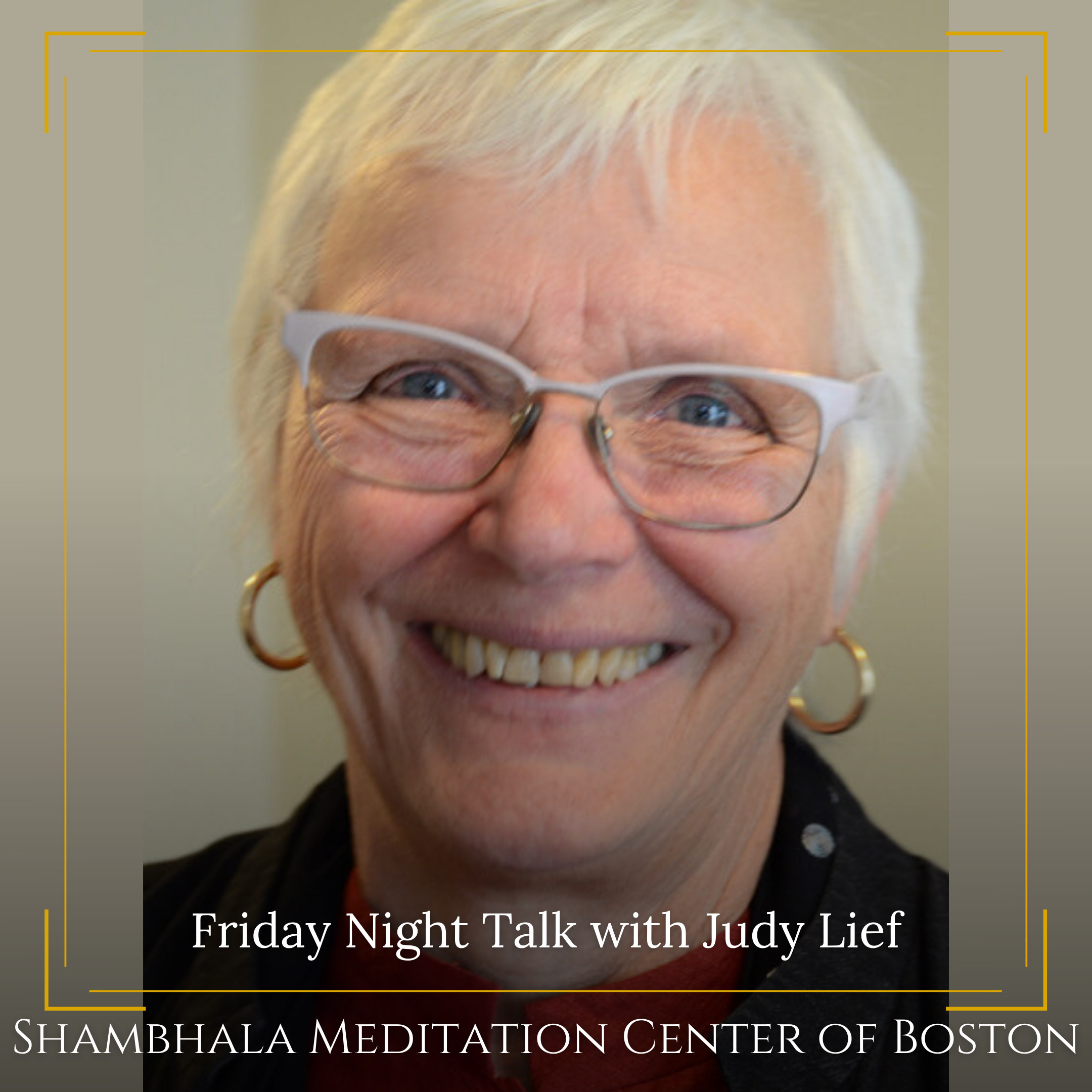 Friday Night Talk: Lineage, Tradition, and Innovation in Western Buddhism
with Judy Lief
Join Judy Lief, longtime Buddhist teacher and author, as she speaks about the challenge of joining respect for lineage and tradition with the need for innovation and creativity to meet the needs of current students. In a dialogue with Friday Night Talk host Mary Lang, Judy will speak on topics such as creating welcoming dharma environments for diverse practitioners, the tension between innovation and tradition, the student-teacher journey and preconceptions of studentship, humbleness and the role of spiritual ancestors. Judy draws from her own journey with her teacher, Chögyam Trungpa Rinpoche, as well as her experience leading a fledgling Naropa University and more recently, establishing the Profound Treasury retreats.
Judith L. Lief is a Buddhist teacher, writer, and editor. She was a close student of Chögyam Trungpa Rinpoche, who empowered her as a teacher, and she has edited many of his books including The Profound Treasury of the Ocean of Dharma volumes and Milarepa. She has been a teacher and practitioner for over 45 years and continues to teach and lead retreats throughout the world. She is the senior teacher for the Profound Treasury Retreats held in Sacco, ME and Crestone, CO. Lief is also active in the field of death and dying and is the author of Making Friends with Death.
Mary Lang is the coordinator of the Friday Night Talk series from the Boston Shambhala Center, and is chair of the Board of the Boston center. She first met Judy Lief at the Vajradhatu Seminary in 1978 in Dixville Notch, NH.
---
You should receive a confirmation email within 24 hours of registration. Sometimes registration emails end up in spam or junk folders. It's also possible you've unsubscribed from emails from Shambhala, which prevents you from receiving the necessary emails. If you don't receive the confirmation email, please contact [email protected].
Friday Night Talks begin at 7 pm Eastern time (8 Atlantic, 5 Mountain, 4 Pacific)
All paid registrants receive a link to the zoom recording early the following week.