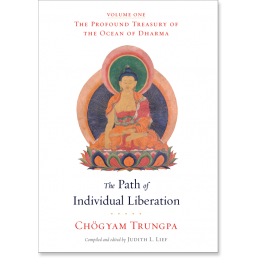 Profound Treasury Study: Vipashyana – Unraveling Ego and the Discovery of Prajna
with Mary Lang & Judy Vreeland
"Vipashyana exists within us, and although we may not yet have experienced it there is such a thing as complete awareness beyond the technique of simple breathing meditation and walking meditation. We night not expect that there could be a state that is completely clear and empty, spacious, without any problems. However, it is possible and we could experience it."
– Chӧgyam Trungpa, from Self-Perpetuating Awareness, Profound Treasury Volume I
Join us for this early-spring Profound Treasury module exploring Vipashyana or awareness, in meditation and post-meditation, which leads practitioners to the discovery of egolessness. The Profound Treasury texts present Chögyam Trungpa Rinpoche's teachings in a way that joins traditional Buddhist concepts with contemplative, experiential understanding, in vivid language which is as fresh today as when they were first taught.
Topics for this Hinayana session will include the skandhas and the eight sense consciousnesses, cutting through the numbness of ego, developing vipashyana or awareness, seeing things as they are, and the birth of prajna. The class format will be facilitated discussion, closely tied to passages in the readings from the Profound Treasury texts. The study of most of these particular chapters in the Hinayana volume has not been previously offered in Boston.
This class is open to everyone. The expectation is that students will actively engage in the topics and complete each reading assignment prior to the class discussion.
Teachers: Mary Lang, Judy Vreeland