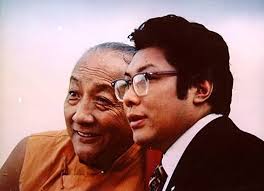 A Historical and Personal Exploration of the Shambhala Lineage
with Nealy Zimmermann
Join us for an exploration of the Shambhala lineage, a rich blend of ancient teachings, and yet a relatively brand-new lineage suited for our time of great upheaval. When the founder of Shambhala, Chögyam Trungpa Rinpoche arrived in Colorado in 1970, he encountered an eager audience looking for spirituality, based on what their idea of that was. The students soon learned about spiritual materialism and over time, began to realize the preciousness and uniqueness of these profound teachings, the purpose of which is to create enlightened society.
Topics will include how lineages show up in our lives, the various lineages that are part of Shambhala, the various figures of the past, the Shambhala terma, and brief histories and roles of Trungpa Rinpoche and Sakyong Mipham Rinpoche.
The format of each class will provide a basic synopsis of the topic followed by discussion and sharing. Rather than being scholarly, this class will have a folksy approach—such as what story or what particular aspects of the lineage inspires us. Discussion can include how this lineage is particularly suited to this time of great upheaval, how it has changed our lives, what is enlightened society, why it has such an appeal to us, etc.
Commentary and discussion will be led by long-time students of Shambhala as follows: Roger Evans, Jim Katz, Brian McCorkle, Larry Teitelbaum and Nealy Zimmermann.
The class will be open to beginning and advanced students.
Photo credit: Ray Ellis