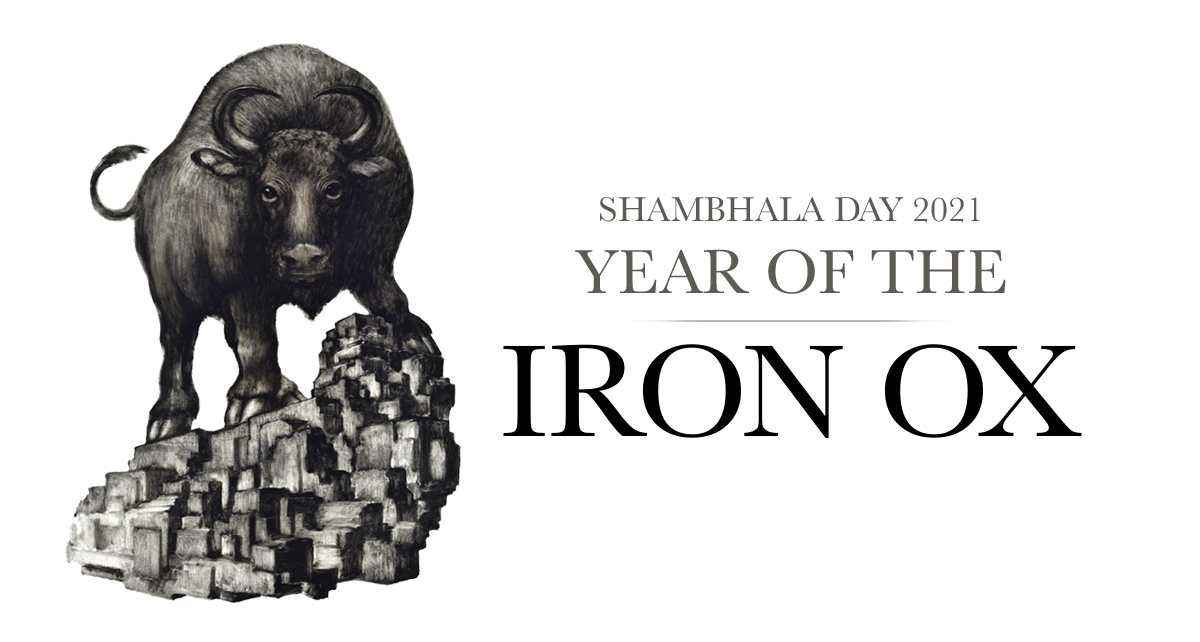 Shambhala Day 2021: Year of the Iron Ox
The Iron Ox has a strong quality of earth,

grounding our discovery of the richness that is already here.
Shambhala Day marks the beginning of the new lunar year where we come together to celebrate the precious opportunity we have in our lives, to practice together, and to express appreciation for our path and our community.
The other events leading into Shambhala Day are our End of Year Rituals February 2nd-10th, and Neutral Day on Thursday, February 11th. These are important practices to help usher in the New Year by clearing obstacles, making offerings, and inviting the wakeful qualities of our minds and the world to be present.
Shambhala Day activities will be hosted online via Zoom. Depending on the state of the pandemic, weather, and other factors, there may be some limited in-person activities as well.
Shambhala Day lands on a Friday this year, and we will spread our celebration over both Friday and Satuday. We encourage everyone to participate in whatever ways you can!
---
Year of the Iron Ox
Zoom link for all local Shambhala Day activities:
https://us02web.zoom.us/j/83525834661
Shambhala Day Schedule, Friday February 12
8:45am - 10:00am Zoom Sadhana of Mahamudra
10:00am - 11:00am Zoom Toast and Brunch
1:00pm - Zoom International Broadcast (separate zoom link will be provided)
3:30pm - In-person Drala Walk @ the Asa Gray Garden at Mount Auburn Cemetery (weather permitting)
Schedule, Saturday February 13
10:00am - 11:00am Zoom Boston Director Address
12:00pm - 1:30pm In-person Lhasang and Practice Books @ Olmstead park - near parking lot off Willow Pond Rd. (weather permitting)

---
Registration is required to receive the link for the international broadcast. When you register, please select the events you plan to attend.