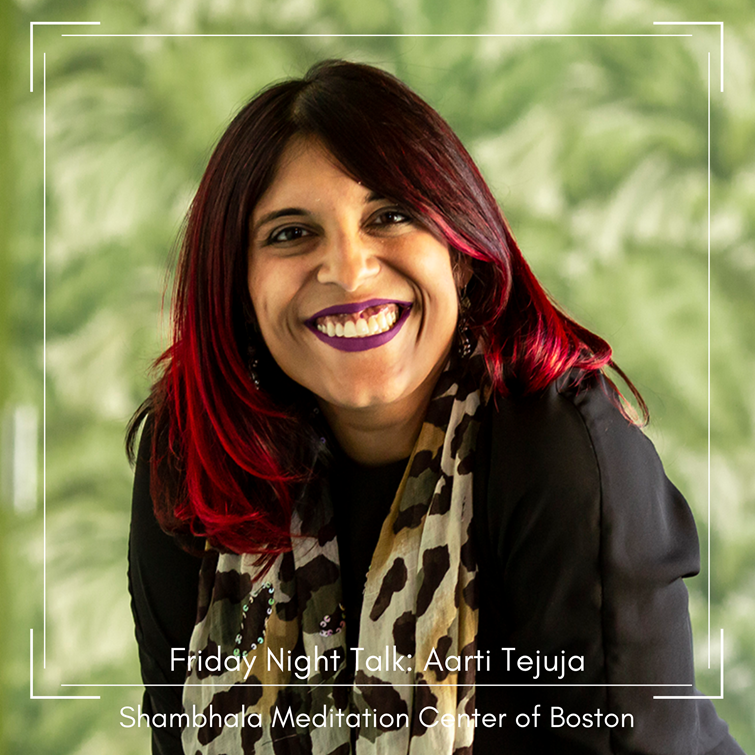 Friday Night Talk: Expanding Awareness: The Alchemy of Transforming Unconscious Bias
with Aarti Tejuja
Many of us practice mindfulness meditation in Dharma communities because we want to see and transform our own habitual patterns which we recognize as the cause of our own suffering. But a personal meditation practice often doesn't shine a light on unconscious biases we might hold that are deeply hidden from ourselves. Sometimes these kinds of biases only reveal themselves when we choose to spend time with people who are different from us. Sometimes when these biases arise, we may not recognize or understand our feelings. We may shut down and freeze, feel embarrassed or ashamed and want to leave, or we may try too hard to fit in by identifying or proving we are knowledgeable about the culture around us.
Being willing to understand our own unconscious biases and learning the tools to transform them is important for both our own healing journey and in creating a more awake society.
Everyone who registers will receive an email with a link to the recording early the following week.
---
Aarti Tejuja (she/her) is a mind/body healer, spiritual activist, embodiment/somatics teacher, student and teacher of Buddhism, and a sacred space holder/facilitator. Aarti has also held roles in the corporate world, been a community organizer, youth mentor and an advocate for those impacted by the justice system.
Aarti worked for the Shambhala organization from 2007-2019, her last role being the Director of Social Engagement for Shambhala International. Aarti currently co-owns a business, Joyful Ground, (www.joyfulground.com) which holds space for the personal and collective dismantling and reimagining of harmful definitions of death, gender and other layers of unconscious bias. Joyful Ground uses art of hosting, interplay, ancestral healing, mindfulness and peace circles to unearth embodied wisdoms around new dreams of justice, reconnecting to our planet and the beautiful essence of being a human being.
Aarti has also successfully developed and facilitated meditation and peace circle restorative justice trainings for non-profits, businesses and youth in schools throughout Chicagoland.
Aarti lives with her partner, Matt Lentz and two cats Buttercup and Fiona.
Please register by noon of the day of the event in order to receive the zoom link in a timely manner.
You should receive a confirmation email from our database within 24 hours of registration. You should also receive an email by noon the day before the event which includes the link to join the call. If you do not receive either email, please check your spam or promotions folders, then contact [email protected] It is possible that you have opted out of emails from the Shambhala Database.