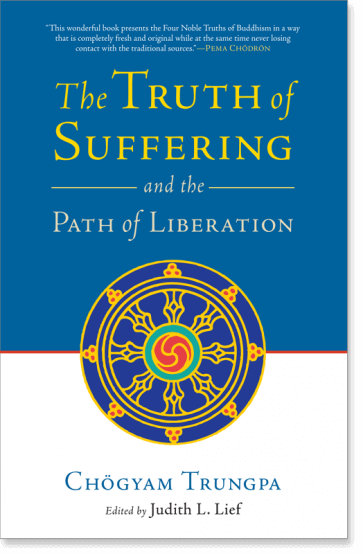 Buddhism Basics: The Four Noble Truths
with Janet Romaine & Jennifer Lacy
Tuesdays, June 30 - July 28, 7-8:30pm
Explore "The Four Noble Truths," as discovered by the Buddha and explained by Chogyam Trungpa Rinpoche, the founder of Shambhala.
In his brilliant, compassionate, and funny style, Trungpa Rinpoche explains the ways in which human beings suffer, the cause of that suffering, the discovery that suffering could end, and the path to ending suffering. (Spoiler alert: Meditation is part of the solution.)
Together we will meditate and discuss passages in the book "The Truth of Suffering" that are provocative and/or intriguing. This program is primarily a discussion group. The facilitators will encourage discussion and provide help where attendees need some context in terms of Buddhist thinking. If you are interested in understanding the causes of suffering and the 2500+ year old tools to end it, this class is for you.
The first class will be an overview, checking what attendees know about the four noble truths, exploring questions about who we are, and getting everyone acquainted and comfortable with relating to each other online. Then we will have one week for each of the four "truths," for a total of five weeks. Each class will last for 90 minutes, with about 15 minutes devoted to meditation practice. Meditations will be guided by the group leaders.
The group will be led and facilitated by Janet Romaine and Jennifer Lacy.
---
Note that it may take 24 hours to receive your confirmation email. Be sure to check your spam or promotions folder if you don't see it.