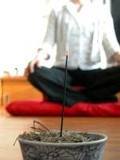 Learn to Meditate: Office Hours [ONLINE]
Second and fourth Thursdays 7 to 8PM
Join the online program here: https://zoom.us/j/93786287217

Although meditation is a personal path, over the course of time, common themes arise in many peoples' experience. Being part of a group of meditators helps sustain the motivation to continue practice and enhances the benefits of meditation. This gathering is for you to come ask your questions as you take up learning and practicing calm-abiding meditation, also known as "shamatha." People who have attended "Learn to Meditate," whether recently or long ago, are encouraged to join us for group practice and discussion about the experience of meditation.
The hour begins with a short guided meditation led by the facilitator followed by an open Q&A period.
This program is offered free of charge and registration is not required. If you value this practice, please consider making a donation to the Shambhala Meditation Center through venmo @shambhalaboston0015 or through the donate page on our website - and mention "Learn to Meditate" in the memo.