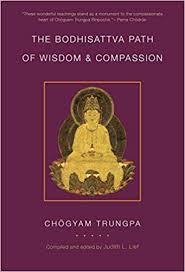 FULL - Profound Treasury Mahayana Study: The Six Paramitas [ONLINE]
with Mary Lang, Nealy Zimmermann, Judy Vreeland
- The Profound Treasury class is currently full and not accepting registrations. -

This class will be held online. Paid registrants will receive an email with the link to the Zoom video conference room.
"Paramita practice is based on human decency, and how to be in the world and help others who are suffering… Paramita practice is the essence of how to be a bodhisattva." –Chӧgyam Trungpa, Rinpoche
Join us for the next 7-week Profound Treasury module exploring the skillful means of the Mahayana Path – the Six Paramitas. The Profound Treasury texts present Chögyam Trungpa Rinpoche's teachings in a way that joins traditional Buddhist concepts with contemplative, experiential understanding, in vivid language which is as fresh today as when they were first taught.
Topics for this session will include the path of the paramitas – Generosity, Discipline, Patience, Exertion, Meditation and Wisdom. The class format will be facilitated discussion, closely tied to passages in the readings from the Profound Treasury texts. This study of these chapters in the Mahayana volume has not been previously offered in Boston.
One does not need to have attended previous Profound Treasury study groups to join this class, but familiarity with meditation practice and some Buddhist understanding is a recommended pre-requisite. The expectation is that students will actively engage in the topics and complete each reading assignment prior to the class discussion.