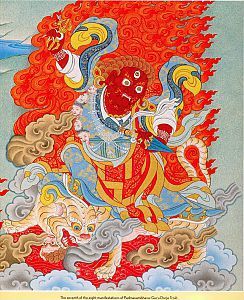 Sadhana of Mahamudra [ONLINE]
The Sadhana of Mahamudra will be held online this month.
Please join through Zoom URL:
Please note the time: 11:45 AM to 12:45 PM
'Sadhana' is a chanted group practice which comes from the Tibetan monastic tradition. This Sadhana was introduced to the Shambhala community in the early 1970's by its author and the founder of Shambhala: Chogyam Trungpa Rinpoche. We chant the Sadhana together with visualization and mantra invoking the presence of the sacred lineage of awakened masters of the past and present, our teachers. Through this sadhana we especially connect with the Kagyu and Nyingma traditions of Tibet, which are foundation lineages of Shambhala.
All are welcome. No registration necessary.
The Sadhana of Mahamudra is practiced on or near the new moon days of each month.