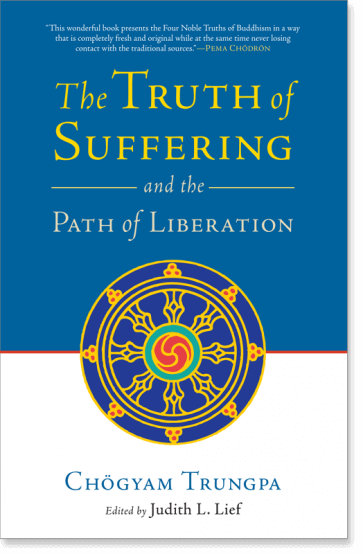 The Truth of Suffering
with Mary Lang & Judy Vreeland
"The first noble truth, the truth of suffering, is the first insight of the hinayana practitioner. It is quite delightful that such a practitioner actually has the guts, bravery, and clarity to see pain in such a precise and subtle way…. We can see it as it is, which is quite victorious. That is why it is called the truth of suffering."
----Chögyam Trungpa
Join us for a 4-week class exploring the Four Noble Truths, as taught by Chögyam Trungpa. The course material is the small book, The Truth of Suffering, excerpted from the Profound Treasury series. Those teachings, given to his advanced students at the traditional 3-month "seminaries," join traditional Buddhist concepts with contemplative, experiential understanding, in vivid language which is as fresh today as when they were first taught. Topics include the core Buddhist teaching on the practice of meditation, the reality of suffering, the origin of suffering and the possibility of liberation.
The format is facilitated discussion, closely tied to passages in the readings from the book. The expectation is that students will actively engage in the topics and complete each reading assignment prior to the class discussion.
This class is appropriate for beginners and beyond.