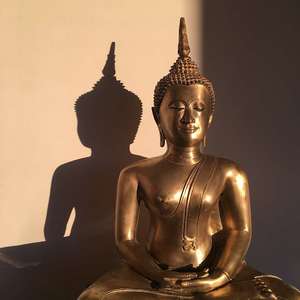 Shambhala Training Weekend I: The Art of Being Human
with Diana Evans
Shambhala Training Weekend I: Feel Human Again is the first program in the Way of Shambhala series. Our urban retreat provides instruction in sitting and walking meditation as a means to develop mindfulness in daily life.
Shambhala Training weekends are grounded in the view that human beings are, at the core, fundamentally awake. By training in meditation, we learn to relax to the freshness of the present moment and discover our natural confidence, no matter what that moment may bring.
Awakening is not about escaping from the world we live in, but instead is about bringing mindfulness and awareness to every aspect of our lives: work, play, relationships, and more. The first step is giving ourselves the time and opportunity to reconnect with our true human existence — the experience of our five senses, the feeling of emotions in our body, and yes, even the awareness of thoughts across our minds.
---
Shambhala Training Weekend I is designed for both new meditators & those looking to reconnect with their meditation practice, and introduces the basic foundations of the Shambhala teachings on universal human wisdom.
The director for the weekend will present teachings on how to trust our own experience, and offer instruction on meditation practice and how it impacts our daily lives. In addition, meditation instructors will be on hand to personally assist participants with one-on-one meetings and guided group meditation.
--
This Weekend Includes:
- Guided meditation practice
- Lively and helpful talks and small group discussions
- One-on-one meditation instruction
- The support of practicing in a community of like-minded people
- Concluding Sunday reception
- A copy of the book Shambhala: The Sacred Path of the Warrior by Chögyam Trungpa
---
Payment Information: Levels of Giving
We are committed to offering our core path programs to everyone, regardless of their financial situation.
$185 Patron Level * — This price supports those who cannot attend at the Sustaining Level.
$135 Sustaining Level — The basic fee required by each participant to sustain the costs of the program.
$108 Supporting Level — This price allows people to attend programs at a discounted rate, supported by the contributions of the 'Patron' tier.
MyPrice — Allows participants to select the level of payment at which they are able to contribute. Please consider the value of the program and practice generosity at the level appropriate for you.
*If you are able, please consider registering with the Patron price. By offering a little more, you help make programs accessible to others. Thank you!
--
Registration Notes
-Plan to either bring $15 for a catered lunch on Saturday (option to pay online or cash at the door), or bring your own lunch.

-When you register for Weekend I, you must pre-pay online to reserve your spot.