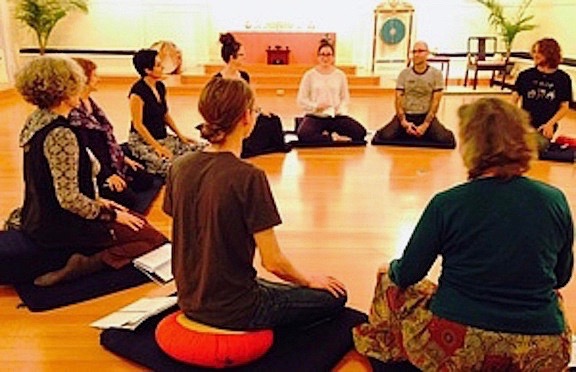 Wednesday Open House: Beyond Schadenfraude
Join us for instruction, practice, and community building during our weekly open house meditation session. Particularly oriented for newer students, but open to all practice levels, instruction will be provided in Shamatha-Vipashyana meditation before group practice begins. This meditation is a way of cultivating the natural strength, clarity and stability of the mind. A short dharma talk will be offered by one of our local teachers to enrich the mind of meditation.
7:00pm - Gather & tea
7:30pm - Instruction, practice & dharma discussion
8:30pm - End
All are Welcome! No matter your experience with meditation, practicing in a group supports your personal meditation practice in a variety of ways.
Lojong: Fall/Winter series
Our guiding inspiration for this series is developing a mind of kindness and compassion; principles which are regarded as essential aspects of the spiritual path. The root teachings of Lojong "mind training" say:
All the joy the world contains

Has come through wishing happiness for others.

All the misery the world contains

Has come through wanting pleasure for oneself.

Is there need for lengthy explanation?

Childish beings look out for themselves;

Buddhas labor for the good of others:

See the difference that divides them

In this series we will explore various contemplations on compassion in daily life as tought in the books Tonglen by Pema Chödrön and Lojong by Ven. Traleg Rinpoche.
The teachings and practice of Lojong come from the Tibetan Buddhist tradition, showing us how to go beyond the habits of self-centered thinking. We will contemplate the pithy Lojong slogans as reminders of how to bring a compassionate attitude into the midst of our everyday interactions. As a further practice of opening mind and heart, we will also work with the practice of Tonglen, "Sending and Taking", or exchanging oneself for others.
Both newcomers and experienced practitioners are welcome. Drop-in attendance is also welcome, as well as full participation in the sequence. Each week will include sitting meditation and guided compassion practices, as well as suggestions for how to practice between sessions.
---
No registration necessary. A $5-$15 donation at the door is greatly appreciated, but not required.