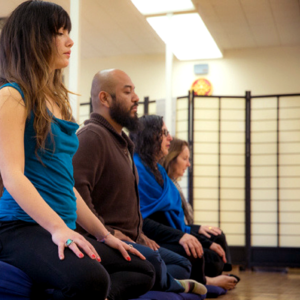 Full day Nyinthun: Heart Sutra talk with Acharya David Schneider
with William Wooding & Janet Romaine
Please join us for this full day of meditation and contemplation on the Heart Sutra, the Buddha's teachings on emptiness*, or transcendent knowledge. The Buddhist view of 'emptiness' shows the way to let go of conceptual understanding in order to directly experience the profound nature of things as they are. By showing our imprisonment in feelings, concepts and material forms, the Sutra points us to liberation thru awareness of their ultimate 'emptiness'.
On this day we will bring together the three Buddhist principles of hearing, contemplating and meditating as a path of opening heart and mind. All are welcome to participate in all or any part of the day, but we encourage your full participation as much as possible.
Schedule:
January 5, 2019
9:00 Opening Chants, Sitting and walking meditation, dharma readings.
12:00 Lunch
1:30 Meditation
- Recorded video talk and discussion, Acharya David Schneider
3:15 Tea break
3:35 Meditation and closing chants
5:00 End
The morning session (9AM till 12) will include chanting of the Sutra, extended periods of sitting meditation and readings about the Sutra. The support of group practice enables us to extend and deepen our meditation. Individual meditation instruction will be offered throughout the morning for those requesting it.
In the afternoon session (1:30 till 5PM) we will view a video talk by Acharya David Schneider taken from a new series of talks by Shambhala senior teachers. The talk will be followed by group discussion and meditations led by Janet Romaine and Bill Wooding.
The day also includes lunch and tea breaks. One may bring their own lunch or go out to one of the nearby restaurants. We look forward to sharing the rich tradition of the Heart Sutra with you.
*Emptiness (shunyata) is often misunderstood as a negative, or nihilistic aspect of Buddhism suggesting an empty nothingness as the true nature of reality. But the real meaning and intention of the shunyata teachings is to clear away our misconceptions about reality so that we can see things as they truly are, free of conceptuality. "Empty" refers to things being empty of our preconceptions and deeply held biases. The Sutra shows how to see through primitive beliefs about reality with the mind of prajna, clear-seeing, allowing is to see the world in its natural brilliance.
____________________________________________________________________
Donation: Please consider a donation of $10 - $25 for this practice. All offerings are appreciated. You can donate when registering online or in person. Please note: A portion of payments for this program will be given as heart gifts (dana) to the Acharya teachers who are giving the talks in this series.
To help us plan, please register
UPCOMING ALL DAY NYINTHUN Themes:
Feminine Principle video talk with Acharya Judith Simmer-Brown (date TBD)
Glimpses of Shunyata video talk with Acharya Melissa Moore (date TBD)