30's and Under Social Meditation Group
Third Tuesdays, 7:00-9:00pm
See the program schedule here
See the 2022 program schedule here
Please join through the zoom link: https://zoom.us/j/178320979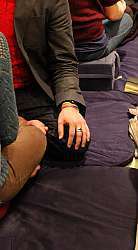 Please note the monthly schedule for 30's and Under. Click the program schedule link above for details.
The 30s and Under night is a fantastic opportunity to connect with other young people in the Boston area who are interested in meditation. The evening begins with meditation practice with instruction provided for anyone coming for the first time or who would like a review.
Sitting meditation is followed by Social Meditation, which is an embodied exploration of bringing meditative awareness into our interactions with others. The evening concludes with refreshments and time for socializing in a vibrant community atmosphere.
---
Registration is not required. If you're coming for the first time, we welcome you as our guest. After that please consider making a donation through the donate page on our website, or through venmo @shambhalaboston0015 – and mention "30's and Under" in the memo. Any amount is appreciated
Donate via paypal.me/shambhalaboston 
-or-
venmo: @ShambhalaBoston0015 (use 0015 if it asks you to confirm a phone number)
Zoom links are open for 15 minutes after the start time. Then they are locked to new participants to protect the practice environment.